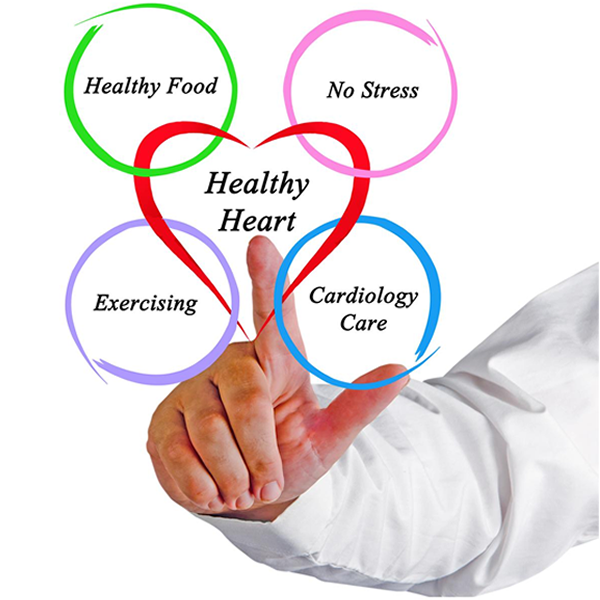 INTRODUCTION
Nutritional plan can help you to reduce or even eliminate some cardiac risk factors, such as reducing total and LDL-cholesterol.
Most of the available information tells you what you can't eat (usually your favourite foods!), But we, through this program, will apply some powerful nutrition strategies focusing on what you can and should eat. We will suggest some specific vegetables good for heart and how you can divide them to consume at a particular time.
In fact, research has shown that adding certain nutrients to your diet is just as significant as cutting back on others.
Here in this program, a nutrition plan (healthy heart diet) and lifestyle guide will be prepared to keep your heart well and to prevent heart disease in the future.
It is also important to know that there are some specific foods to avoid with heart disease, and every heart patient should be aware of his/her diet chart. Our experts will also prepare a diet chart for high blood pressure and low blood pressure separately if you have bp problem along with heart disease. A complete diet chart will be given based on food preference, lifestyle changes, goals, etc.
Manage Your Healthy Heart | Follow Healthy Heart Diet
You can manage or prevent heart disease by adopting certain lifestyle practices and changes. To manage your healthy heart, you need to focus on blood pressure, optimum BMI, heart healthy foods, cholesterol level, & exercise. This program will help you focus on each area (BMI, nutrition, exercise, BP management, cholesterol management) specifically & separately despite keeping your heart healthy.
Manage Heart with BMI | Eat Food Good for Heart & BMI
Body mass index helps you maintain your weight and heart as well. Heavy weight can increase the risk of heart disease. Enroll with Arogyam Nutrition and get the proper guidance to maintain your BMI with healthy eating habits & daily exercise tips. We always suggest best food for heart patients/ordinary people despite maintaining their BMI and living a healthy life.
Manage Blood Pressure & Heart with Healthy Foods:
A healthy diet program can both reduce the risk of blood pressure problems and heart-related issues. Our high BP diet and low BP diet plans are designed independently based on the patient's medical condition. If you already have a blood pressure issue, it's vital to prevent it from getting worse by following the low/high blood pressure diet plan designed by our experts. By enrolling in this program, you will know the effective diet chart for high blood pressure & low blood pressure based on your heart health condition. We are experts in preparing diet for bp patients & heart disease.
Manage Heart with Fruits | Eat Fruits Good for The Heart
Eating good food alone cannot give you a healthy heart until you add fruits into your daily routine. Fruits provide a wide variety of fibers & other nutrients essential for overall health. Fruits contain natural antioxidants, which help in maintaining the proper function of heart. This program will guide you to eat specific fruits good for the heart health. Get to know the best fruits for heart patients by registering with this program. We will provide a complete diet for heart patients to keep heart disease at bay.
SALIENT FEATURES OF THE PROGRAM
UNIQUE ASSESSMENT FORM
A questionnaire designed to evaluate your routine diet , lifestyle, health risk & diet preferences.
PERSONALIZED PROGRAM
A comprehensive program that emphasizes healthful food, kitchen herbs, super foods, modified lifestyle, inclusion of physical activities, psychological support to promote long-term health management.
SCIENTIFIC ADVISORY
Considering Medical background
Current nutritional status
Level of physical activity (Consumption of energy)
RIGOROUS MONITORING
Guidance and extensive follow up from expert mentors will ensure your success.
DEDICATED MENTORING
A diligent panel of well trained nutritionists to assist you in every step and help achieve your weight loss goal.
VIRTUAL MENTORS
Complete eat out guide, alcohol guide, specific program guide, health mantras are your companions to keep a check on you.
CUSTOMIZED RECIPES
Delicious and easy-to-make recipes will make the program more interesting and will help in proper nourishment of your body.
Heart Healthy Program Goals
Nutrition for Prevention of heart disease.
Nutrition for existing heart ailment.
To reduce total cholesterol, bad cholesterol (LDL) and Triglycerides (TG).
To Reduce and prevent Hypertension (High BP).
To manage stress through diet and lifestyle modifications.
To maintain your BMI to normal range, Fat reduction, waist hip ratio reduction.
Heart Healthy Foods Suitable For
The healthy heart diet plans prepared by Arogyam Nutrition are suitable for:
Persons with family history of heart disease
Hypertension
Cardiac/ heart patients
Dyslipidaemia
Post cardiac surgery care